Our Presidents
When the FCA was first formed in 1990, there was little debate about who should be invited to become its first President. Group Captain "Sport" Rogers, who was by then working for the Hughes Aircraft Corporation, was approached and agreed to serve, his appointment being unanimously endorsed by the Association's first Annual General Meeting.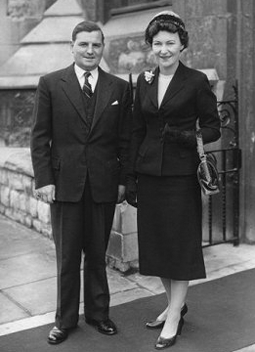 Sport and Jo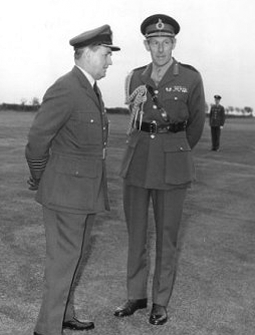 Sport and CDS
Group Captain "SPORT" ROGERS OBE FBIM RAF (Retd)
1990 - 1998
Sport's RAF career began in 1942 when he began training as a Navigator. Active service then followed as a rad/nav on 169 Sqn carrying out night fighter/intruder ops over NW Europe until the end of the war. He then served on 29 Sqn at West Malling and as an instructor at RAF Leeming.
He crossed over into the Fighter Control world in 1950 and served first at Trimley Heath before promotion to Squadron Leader endowed him with the good sense to marry Flight Officer Josephine "Jo" Clark.
His first tour in rank took him to Germany and 83 Group's Ops Room at RAF Wahn. There then followed an exchange tour with the Canadians after which he returned to command the radar station at RAF Langtoft before attending the Staff College at Bracknell in 1958.
Promoted to Wing Commander in 1959, he filled staff appointments at HQ RAFG and the Allied Air Forces HQ in Norway until 1962 when he was selected for the Joint Service Staff College Course at Latimer. Further staff jobs followed at HQ Fighter Command and 2ATAF until 1967 when he was awarded the OBE and appointed to head up the LINESMAN Software Programming Team.
Promotion to Group Captain rescued him in 1969 when he was given the pivotal job of DD Ops GE in the MOD which he held until 1971 when he became the Deputy Chief of the Air Defence Component at SHAPE. He returned in 1974 to command RAF Boulmer and to act as Sector Commander of the UK's central air defence sector. During that tour, Boulmer was selected to host a visit by the NATO Military Committee of some 32 Generals or equivalent.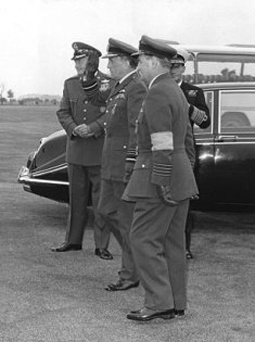 Sport and CAS
Sport took up his final service appointment in 1976 as DD Ops and Pol with the Air Defence Environment Team which was created specifically to define and procure the UKADGE project. During this time, he was also Chairman of the NATO Air Defence Hardware Committee. After a full and distinguished career, Sport retired from the Service in 1978.
Sport's second career was with the Hughes Aircraft Company, which had by then won the UKADGE contract, leading a consortium that also included Plessey and Marconi. Sport established and ran their famous office at 140 Park Lane for 12 years, moving on after UKADGE to market other Hughes products including satellite communications, air-to-air, air-to-ground and anti-tank weaponry as well as ground and airborne radars. He finally retired in 1990.
Sport relinquished the Presidency of the Association in 1998, handing on a thriving organisation to .
Squadron Leader STEVE WINSLADE BA(Hons) MAPM MCIArb RAF (Retd)
1998 - 2003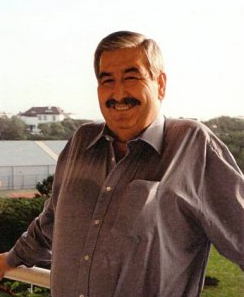 Steve Winslade was a hugely popular choice to succeed Sport as our second President. A positive whippersnapper by comparison, Steve joined the RAF twice. The first time was in 1964 when he was commissioned and went almost all the way through Nav training before falling at the last hurdle. Rather than accept the options then on offer, Steve went instead to the Far East where he became an Inspector with the Royal Hong Kong Police. So effective was he, that he was obliged to leave after a couple of years before the Tongs sent selected bits of him home in a box.
Concluding that facing down the Red Hordes of the Soviet Union was marginally less dangerous, Steve rejoined the RAF as a Fighter Controller in 1967 and did what baby Fighter Controllers do until it was discovered that he could also do hard sums. At this point, he was diverted into the emerging world of computers in air defence, from which he never truly escaped. Nor would he have wished to, for this was Steve's forte, and his operational background meant that sense would henceforth be spoken within the world of technogeeks.
Steve's introduction to Geekland was certainly a challenge, as he joined the LINESMAN Project Management Office where he had specific responsibility for all internal display systems and also played a major role in the organisation and conduct of overall system trials. The challenge then became even more interesting as NATO changed its policy from one of "You-throw-a-brick-at-me-and-I'll-throw-the-wall-at- you" to one of "flexible response". LINESMAN had been designed in the former era and only had to survive an initial attack long enough to allow the nuclear deterrent to be launched - so it was housed in a single unhardened building at West Drayton. Now it had to be changed, in late procurement, to a system capable of survival, and of "graceful degradation", in support of the new philosophy. And so, with Steve's help, what were intended only to be West Drayton's "Standby Local Early Warning and Control" facilities at Neatishead, Boulmer and Buchan were beefed back up to their former capabilities and "SLEWC" entered the Fighter Control lexicon.
Steve survived the transmogrification of LINESMAN with his reputation very much intact and, in 1977, he was appointed as a Flight Commander on Programming Wing, West Drayton, where he was responsible for the management of the team of analyst/programmers maintaining and developing the systems within the Air Defence Data Centre and its associated simulator which was, by then, the main practical teaching vehicle for the School of Fighter Control.
The Branch capitalised on Steve's expertise and experience in 1980 by shipping him to the UKADGE System Support Team and making him the Software Training Manager, responsible, with his staff, for the selection and training of all ADGE programmers, analysts and computer operations staff.
In 1982, Steve was promoted to Squadron Leader and began what was to prove his last tour of duty as GE ADP at HQ 11 Gp, Bentley Priory, where he was the staff officer responsible for every aspect of Information Technology within the air defence system as a whole. He retired at his 38/16 point in 1983.
Steve entered the commercial world just as IT was really taking off, and he happily rode the wave. Initially joining Marconi Radar Systems to work on 3D radar display systems, he quickly moved into the marketing of C3I systems in general and, by the end of 1987, was the regional sales manager for the USA with particular responsibilities for teaming arrangements within the SDI programme.
He was then head-hunted to become the Marketing Director for Cristie Software Ltd but left in 1989 when it became clear that the ADA software language was not going to take off. He then joined PA Consulting, with whom he stayed until 2002. As a member of PA's Project Management Practice, Steve held senior management positions in a number of large and complex programmes. He specialised in project and programme management where strong leadership was required; typically, managing portfolios of projects, complex business change programmes, driving large scale implementations and rescuing projects that had gone off the rails - literally in the case of the allegedly fully automatic, computerised baggage handling system at Denver's new airport!
In 2002, Steve took early retirement from PA and set up his own company, "Steve Winslade Associates". He took the Chartered Institute of Arbitrator's Mediation Course and qualified as a Mediator. Business was booming when, suddenly and tragically, Steve suffered a massive heart attack and died in the Spring of 2003.
And so the Association lost not only its President but one of its founder members and its greatest character. Steve was a big man in every way and it is difficult to imagine any gathering of Fighter Controllers without his massive presence, his flamboyant ties and pocket handkerchiefs, his booming laughter and the ever-present likelihood that he would knock your pint flying with his next expansive gesture.
The Association has since endowed a trophy in Steve's memory and "The Steve Winslade Memorial Award" is presented annually to the student who, in the opinion of the School of Fighter Control's instructors, has shown the most character in tackling the ab initio courses. The trophy takes the form of a silver claret jug - which somehow seems an appropriate memorial to our late, and much lamented, President.
Built with Bootstrap
and CMS Made Simple